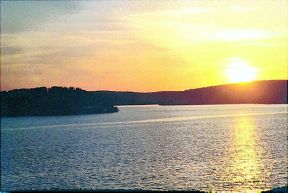 Badin Lake was constructed in 1917 by the Aluminum Company of America (ALCOA) on the Yadkin River. The reservoir covers an area of 5,350 acres, has 115 miles of shoreline, a maximum depth of 190 feet. Water fluctuations are minor.


A large part of Badin Lake's shoreline adjoins the Uwharrie National Forest which received its name from part of the oldest mountain range in North American, the Uwharrie Mountains. In 1961, President John F. Kennedy designated 43,000 acres of Montgomery, Randolph and Davidson Counties as a National Forest. Needless to say, the National Forest enhances the beauty and tranquility of Badin Lakes shoreline.


Badin Lake's central location (about one hour from Charlotte, Greensboro and Winston-Salem) makes it easily accessible for a weekend get away or full-time living.


Whatever your interest -- fishing, boating, skiing, golf or watching the sunset, Badin Lake Realty can find a place to fit your needs.